Talks seminars and workshops
I give talks and seminars about the teaching of listening and pronunciation, and on all aspects of the nature of spontaneous speech. Suitable for all levels of teacher training, including university lecturers. I also speak on topics of general interest, such as prejudice towards accents.
Forthcoming talks and workshops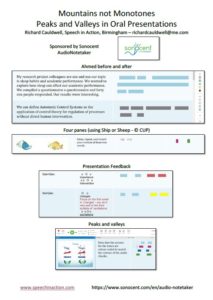 8th October 2016: PronSIG University of Brighton, Falmer
Mountains not Monotones: Peaks and Valleys in Oral Presentations.
Click on the image on the left to see my handout.
View the programme here and full description of the day's events here
12th November 2016: English UK, Prospero House, Borough, London
Jungle Listening: Survival Tips for Fast Speech